Houma: The Origin Story
Houma was named after the Native American tribe who settled here, the Houmas Indians. The word houma or ouma means "red" in the tribe's language, which referred to the sun or possibly to their war emblem, the crawfish.
Most of the pioneers who came to Terrebonne migrated from the Mississippi River, down Bayou Lafourche and Bayou Terrebonne. There was an influx of French settlers from New Orleans to Houma after the Spanish domination in 1762. Other pioneers were exiled French colonists, known as Acadians from Nova Scotia, who searched for a new settlement for 10 years before arriving in Terrebonne Parish.
One of the most southern of all Louisiana parishes, Terrebonne was established on March 22, 1822, when it was annexed from Lafourche Parish. The French settlers to this area christened it terre bonne meaning "good earth" because of the abundance of wildlife, seafood and fertile land. They chose this area because of its isolated geographic location, minimal government control and fertile land. Though the primary settlers were of French origin, over the years many Spanish, English, Italian, German and West Caribbean cultures have made Terrebonne Parish their home.
Old Southern plantation life was dominant in Terrebonne Parish. Sugarcane cultivation was the principle agricultural industry in the parish. The first plantation was established in 1828. Twenty-three years later, Terrebonne had 110 plantations.
The people of Terrebonne lived in seclusion for generations and continued family traditions, including their unique dialect of French language, music, dance and cooking. It wasn't until the debut of oil and natural gas in 1929 that many portions of Terrebonne Parish were introduced to the outside world. Today, our heritage is still celebrated through the area's many festivals.
Take 300 years of history, add in 2,500 square miles of moss-draped wetlands, and throw in a few pirate kings, werewolves, swamp monsters, voodoo priestesses, Indians and faith healers and you will begin to see the rich tapestry of legends that have woven themselves around and through Houma, Louisiana. However, Houma is so much more than just a collection of old stories and lore. Here you can also learn about the life of famed naturalist and reptile handler Alligator Annie; the devastation of the resort on Last Island; and the history of our unique brand of Cajun music.
Acadian Deportation Cross Monument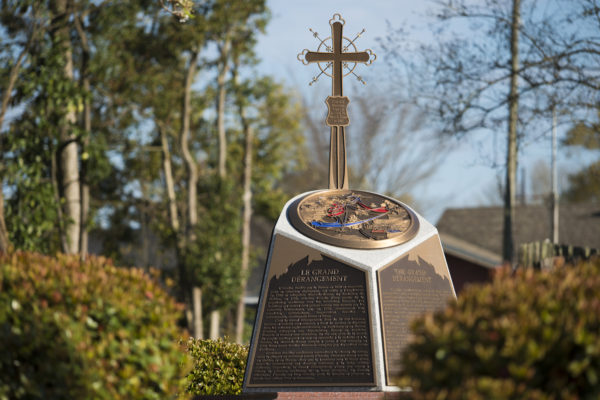 7910 Park Avenue, Houma
The Acadian Deportation Cross Monument was created by the Société Nationale de l'Acadie and is located in front of the Bayou Terrebonne Waterlife Museum. There are 10 monuments in all marking the journey of the expelled Acadians. Houma, Louisiana's monument is the first in the United States. Panels in English and French tell the story of the Acadians' journey and the settlement in Terrebonne Parish. A map shows the routes taken by the Acadians following deportation. A cross adorns the top of the monument – a replica of the Grand Pre' deportation cross.
---