TARA MORVANT GRADUATES FROM THE LOUISIANA TOURISM LEADERSHIP ACADEMY
The Louisiana Travel Association (LTA) celebrated the graduation of Tara Morvant, Communications and Public Relations Manager of Explore Houma from the Louisiana Tourism Leadership Academy (LTLA) at the association's 2023 Annual Meeting in New Orleans.
The 22 members of the LTLA class spent all of 2022 developing their leadership skills while learning from seasoned professionals from throughout the tourism industry. The goal of the program is to equip each class member with knowledge and skills that will enrich their tourism-related organizations, therefore strengthening the state-wide tourism industry.
"I'm excited to graduate as part the Louisiana Tourism Leadership Academy class of 2022," said Tara Morvant. "I was exposed to a lot of new ideas and learned so much from established leaders in the tourism industry. I believe I will benefit from this program for years to come."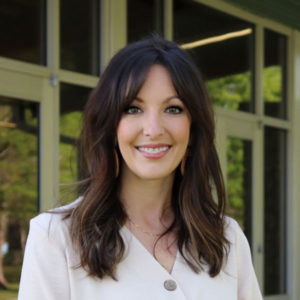 The graduating class of LTLA also includes: Cody Gray, Louisiana's Cajun Bayou; Creed M. Romano, with Jeff Davis Parish Tourist Commission; Dana Monistere, with Tangipahoa Parish Tourism; Danielle Tassin, with Homewood Suites by Hilton Lafayette; Georgia Craven, with Toledo Bend Lake Country; Hannah Nyman, with Visit Lake Charles; Herman Fuselier, with St. Landry Parish Tourist Commission; Katherine Diemont, with Homewood Suites by Hilton Slidell; Kaylynn Lundy, with Hilton Garden Inn Lafayette Cajundome; Laci Laperouse, with St. Martin Parish Tourism; Lance Leblanc, with Lafayette Travel; Leanna Coy; Nancy Loewer, with Acadia Convention & Visitors Commission; Roberta Carrow Jackson, with St. Tammany Parish Tourist and Convention Commission; Shalisa Roland, with Visit Lake Charles; Denise Burrell, with River Parishes Tourist Commission; Cheryl Michelet, with BREC – Recreation and Park Commission; Luke St. John McKnight, with Arts Council of Greater Baton Rouge; Charlotte Rice, with Shreveport-Bossier Convention and Tourist Bureau; Charlotte Rice, with Shreveport-Bossier Convention and Tourist Bureau; and Regan Davis Sanders, with the Louisiana Office of Tourism.
Members of the class also gave back to the tourism community by selecting businesses within the industry for pro-bono projects. Collectively, the value of the class's tourism product enhancement and marketing work exceeded $100,000.
"LTLA has been a tremendous opportunity for those interested in learning more about Louisiana's tourism industry, and we are proud of the 2022 graduating class," said Kim Dodd Boasso, LTA President and CEO. "Not only has this program individually benefited these emerging leaders, but the LTLA class projects are paying off significant dividends for the entire industry."
About the Louisiana Travel Association
LTA is a trade association leading and strengthening Louisiana's vibrant tourism industry through promotion, education and advocacy on behalf of our members. Tourism generated $16.8 billion for Louisiana in 2021 and is the 5th highest employer in the state. For more information, visit LouisianaTravelAssociation.org.
---
---