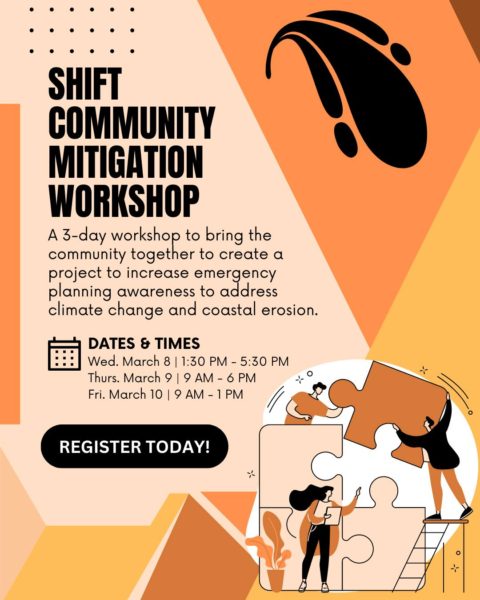 You are cordially invited to attend and participate in the Shift Community Mitigation Workshop Pilate in Houma! This workshop is open to the public and is geared toward creating Cultural Economic Opportunities. The Ella Project, along with the other hosts, would like to connect artists and art organizations with other groups and individuals in our area, such as first responders and other relief organizations to be able to work cohesively through emergencies and disasters. The idea is to work together to produce projects that would improve the quality of life in our area, especially after disasters.
This one-of-a-kind 3-day Shift Community Mitigation Workshop focuses on emergency preparedness and mitigation through a creative lens.
The workshop will be held over three consecutive days, March 8, (1:30pm-5:30pm), March 9 (9:00am-6:00pm), and March 10 (9:00am-1:00pm). Thanks to support from the Mellon Foundation this event is offered free to the public, but space is limited.
The location will be at the Bayou Terrebonne Waterlife Museum 7910 Park Avenue, Houma, La 70360.