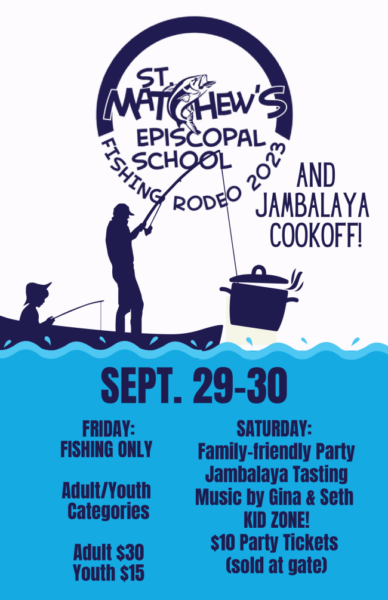 FISHING RODEO: The 9th Annual SMES Fishing Rodeo brings the community together for a fun, family-friendly event. Adult and youth anglers can compete in many categories. This year, we will have the weigh-in and after party at St. Matthew's! Categories, prizes, weigh-in, cook-off & after party details will be posted soon! Come pass a good time with us!
Purchase T-shirts & Tickets or Sponsor the Event: 
bidpal.net/fishforsmes
• FRIDAY, SEPTEMBER 29, Day 1 – FISH! FISH! FISH! SMES students are excused from school on Friday, September 29, if they purchase a ticket and plan to participate on Friday.
• SATURDAY, SEPTEMBER 30, Day 2 – The Big Day!We are excited to announce our new Jambalaya Cook-off! The weigh-in will be held on campus, and the scales will be open from 12-3 PM, followed by an after party until 4 PM! (Bounce houses, live music, jambalaya, adult beverages, sweet treats, door prizes & more!) Contact Us: fishforsmes@gmail.com