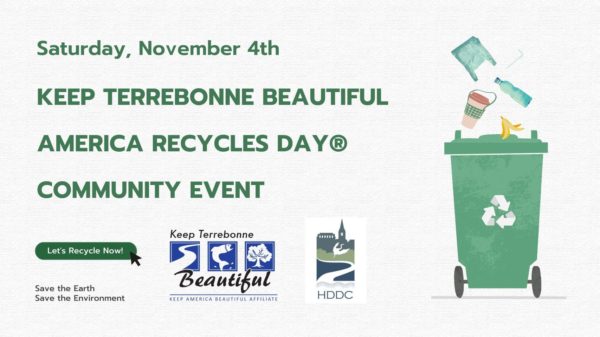 Join Keep Terrebonne Beautiful for America Recycles Day! 
 Date: Saturday, November 4, 2023
 Time: 9 am – 12 pm
 Location: Terrebonne Folklife Culture Center, 317 Goode St, Houma, LA
 Let's come together to celebrate America Recycles Day, the only nationally recognized day dedicated to promoting recycling in the United States! 
At this special event hosted by Keep Terrebonne Beautiful, we have some exciting activities lined up:
 **Electronic Recycling Drive:** Have old computers, laptops, gaming consoles, or other electronics gathering dust? Bring them in, and we'll ensure they are responsibly recycled and put to good use by the Capital Area Corporate Recycling Council. Let's reduce electronic waste and support our community!
 **Secure Shredding & Recycling:** Worried about sensitive documents piling up? Bring your banking, legal, and important papers to our shredding station. Watch as your documents are securely shredded on the spot!
 **Clothing Drive for Colonel Closet:** Help us support the Colonel Closet initiative, a beacon of hope for students in need. By donating gently used clothing items, you're making a real difference in the lives of those impacted by circumstances beyond their control.
 **Mardi Gras Beads and Aluminum Can Collection:** Don't let those Mardi Gras beads and aluminum cans clutter your space. Drop them off with us to promote recycling and reduce waste.
Let's make a positive impact on our environment and community together! Invite your friends, family, and neighbors. Every little bit counts, and together, we can make a big difference!
 Learn more about America Recycles Day and Keep Terrebonne Beautiful at 
www.keepterrebonnebeautiful.org