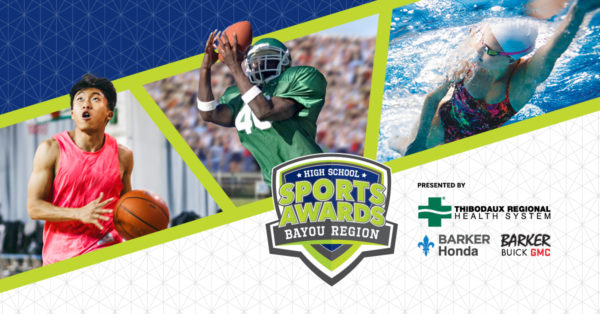 The Bayou Region High School Sports Awards is a high school athlete recognition program honoring the Bayou region's top-performing athletes, coaches, and teams from the past year. The nine-month program culminates in an in-person awards show where players of the year will be named in each sport will be given!
The June awards show will be free to attend for nominated athletes, thanks to our sponsors. Family, friends, and supporters can purchase tickets to show their support and watch the show.
 Celebrate the best high school athletes with us!
 June 1 at Bonvillain Civic Center at 7:00pm.
 Mark yourself as interested or going in this event.
 See this year's nominees and learn more 
https://bit.ly/3YSF2FW
.
 Join the conversation by using 
#BayouHSSA
.
Doors open at 6:00pm for the 7:00pm awards show. The Bayou Region High School Sports Awards is presented by Thibodaux Regional Health System, Barker Honda and Barker Buick GMC and powered by Houma Today, Daily Comet, and Houma Courier. Mark yourself interested in this Facebook Event to be notified of new announcements, program updates and more!